Arizona to New Jersey Cross Country Trip 2004
My first real trip in the plane is going to be a REALLY BIG trip. The plan was to fly from Chandler, Arizona to Millville, New Jersey over the course of three days and return again a week later. My oldest daughter, Alyssa, would be my helper and take the right seat for the trip. We would meet up with my wife and other two daughters in New Jersey and vacation there together as well as celebrate my in-law's 50th wedding anniversary.
We planned to leave Chandler (KCHD) early Tuesday morning, August 3rd, to avoid the heat of the day turbulence usually encountered in 105+ degree Arizona desert summers. Our goal was to make it to Sundance Airpark (KHSD) in Oklahoma City, Oklahoma on the first day with a couple of stops for fuel/leg stretching along the way. The second day we were to go to Indianapolis, Indiana to my birthplace and finally on day three we would travel on in to New Jersey. The return trip would be along the same route with the same stops.
Aug 3, 2004 - Day 1:
I didn't get a lot of sleep the night before, mostly because weather was moving into the Midwest and I was looking at my options for days 2 and 3. I was confident day 1 would be as planned, but once in OK City I wasn't convinced we'd be able to fly into the Midwest. I woke up at 4:45am, got dressed and ate a bagel while checking the weather one last time - no change. I got the luggage and headed down to the airport. My wife and kids were planning to get to the airport by 6:00am, so I spent the time loading the luggage in the plane, programming the flight plan into the CNX80, cleaning the windows and looking over the map. I pulled the plane out just as my wife pulled up with the kids and my parents.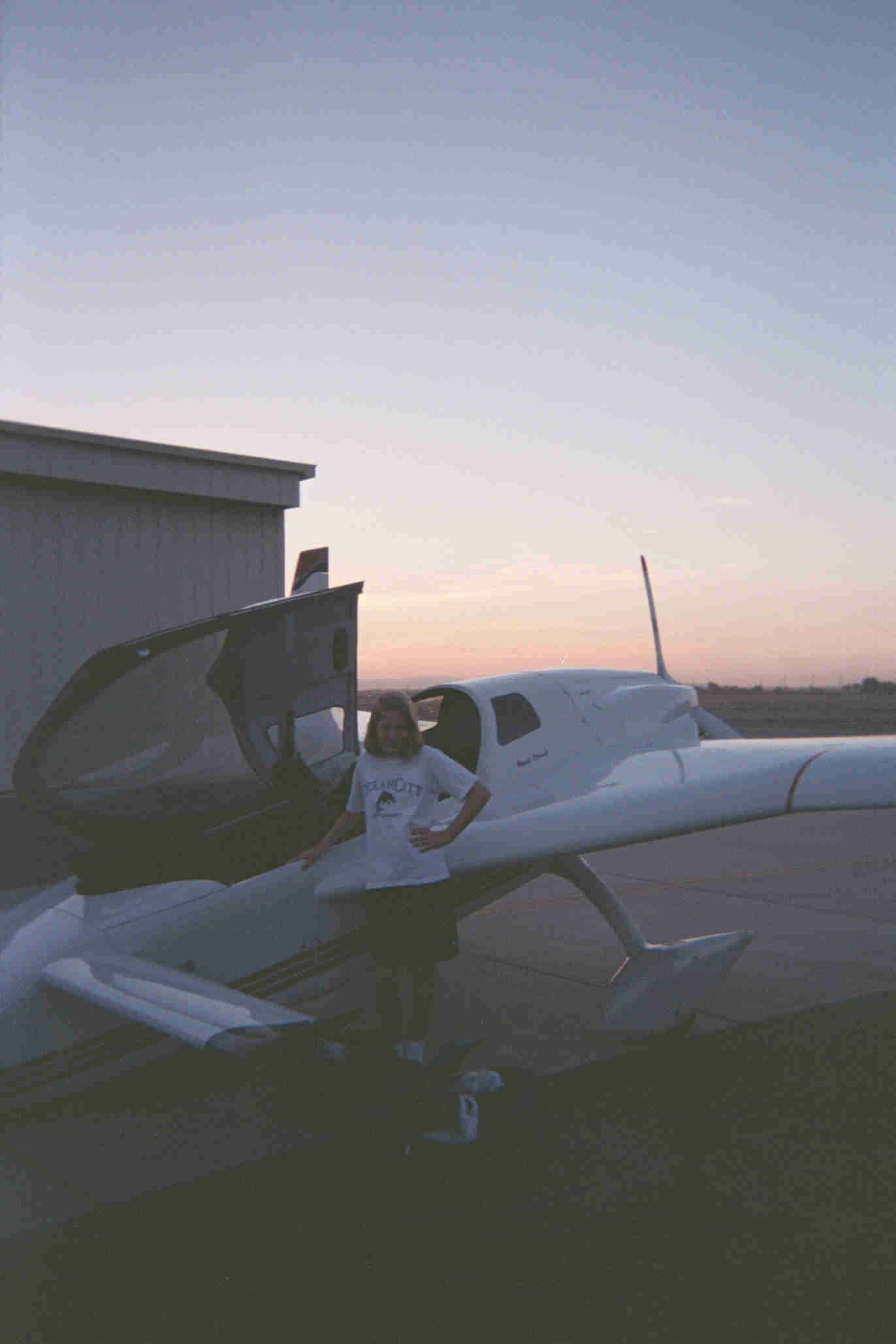 After taking a few pictures praying for a safe trip and getting some hugs and kisses, Alyssa strapped into the right seat and I joined her in the left seat. The plane fired right up and we headed down to the fuel pumps to get topped off before we left. We got clearance from the Chandler tower for takeoff on runway 04 and departed at 6:45am. The morning air was perfect for climbing and we headed south to our first waypoint staying under the Phoenix Class B before climbing to 9,500ft. A direct flight would have taken us over some pretty rugged terrain for the first couple of hours, so I decided to play it safe and head toward Tucson and loop around the mountains to the south, then go north to avoid a number of MOA's before heading ENE toward Oklahoma City. As we approached Tucson we got a good view of the Biosphere on the backside of the Catalina Mountains and Mount Lemmon and made a turn toward Lordsburg, NM. From there we headed to Truth-or-Consequences, NM (KTCS) for our first stop. The first leg took us about 2-1/2 hours. Not long, but we were easing into it. We got out and wandered around the mostly deserted airport and decided T or C was not anywhere we wanted to live, so we ate a snack and got back into the Cozy. Our first fuel stop was another 2 hours away in Tucumcari, NM (KTCC). The day so far was going as planned and we listened to the CD player for awhile as we made our way eastward. Tucumcari wasn't much more lively than T or C, but we stopped and topped off the fuel while checking the weather.
I parked the plane on its nose after refueling, but as we got ready to board the plane I switched on the battery main switch and got nothing! Rats! I thought to myself that somehow I'd managed to drain the battery even though the alternator showed it was charging. I went inside and asked if they had a charger. While I waited for them to get that ready I hand cranked the nose gear down to roll it into the hangar and out of the sun. I had no more than finished cranking it down when I tried one more time with the battery switch. Bingo - I've got electric power again! I checked the battery voltage and it showed 12.6V. Well, maybe it was just a loose switch connection... No need for the charger, so we boarded the plane and headed out of windy Tucumcari, NM.
We were making pretty good time along our route (175kt ground speed), but had already lost two hours of time due to time zones. We had also spent more time on the ground at our stops than I thought we would, so we decided to make it on into Oklahoma City without another stop. We flew over Amarillo, TX and then made it on into Sundance Airpark (KHSD) about 5:30pm local time. We arranged for a rental car and then pulled the plane to a tie down spot for the night. My mom had made a very nice airplane cover for the Cozy before this trip, so we put it on before we left just in case we got any showers overnight and then headed to a local hotel for the evening.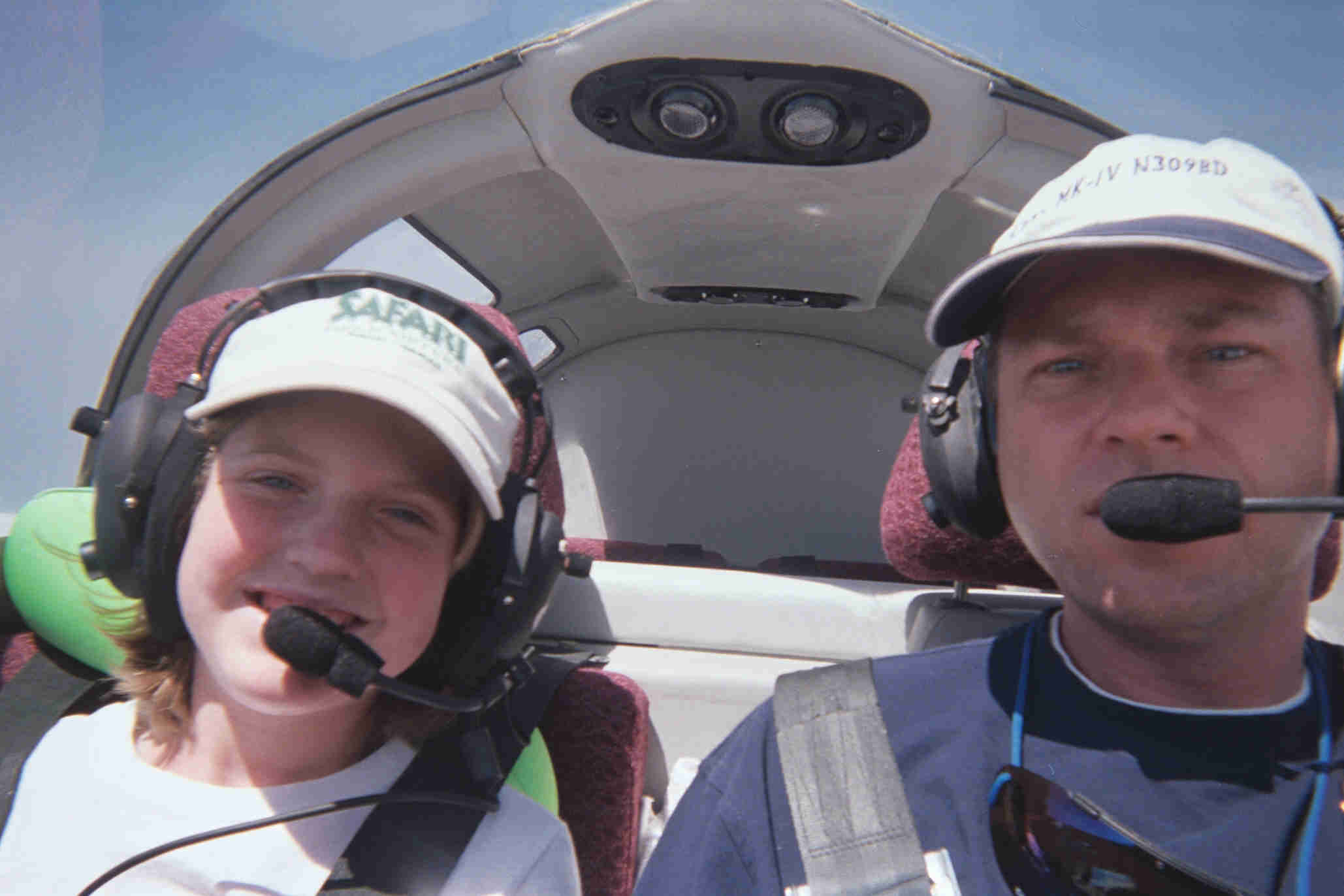 I logged onto the web at the hotel and determined that there was no way we were going to get to Indianapolis the next day due to forecasted severe T-storms from Missouri thru Ohio. So, I spent a couple of hours preparing for a trip that would take us due east to the coast the next day. Follow this link for a detail of Day 2.